Internet marketing that works.
You're ready to grow. We provide internet marketing services that help you scale your proven business model.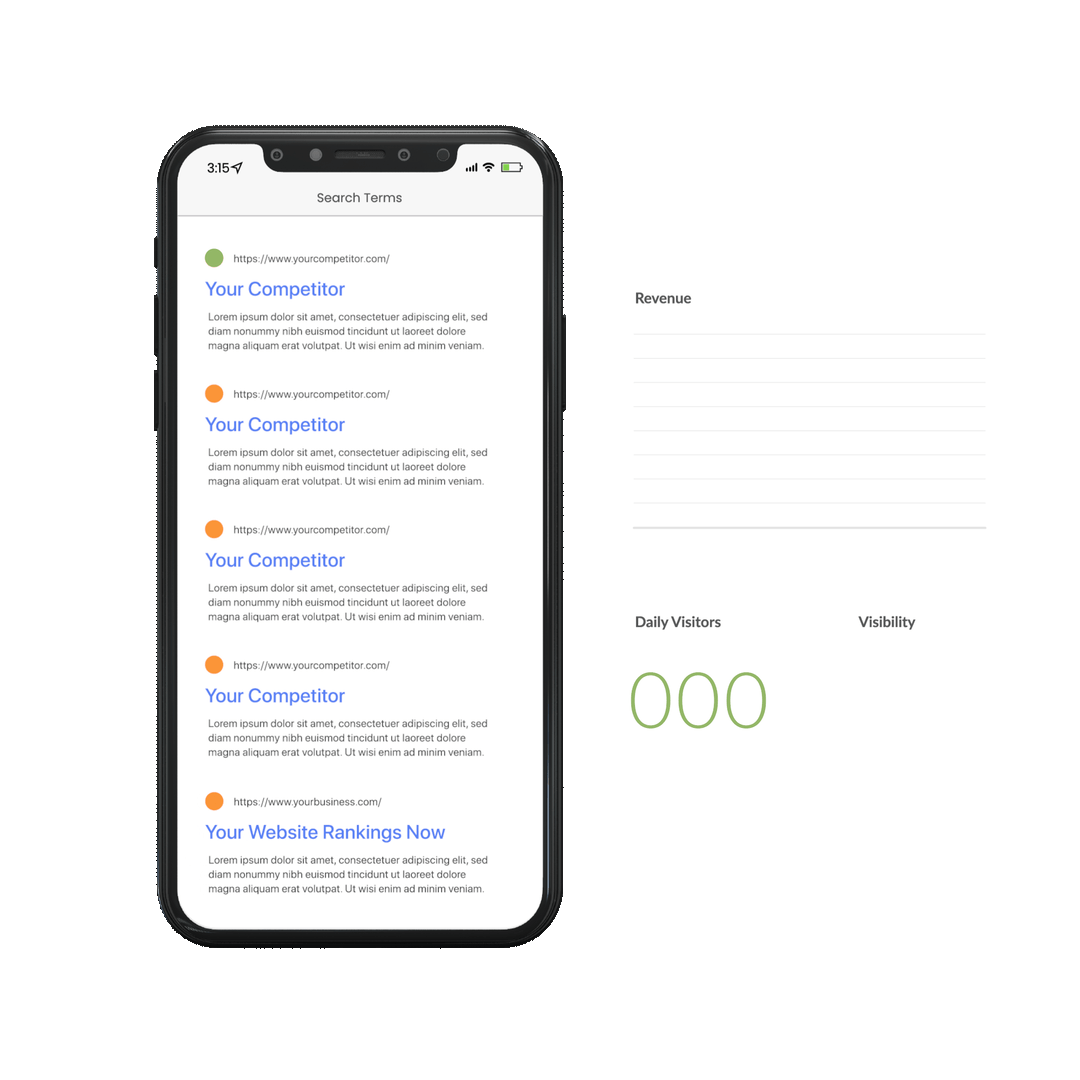 What Our Clients Say
Our Services
Magnifying Glass Icon
Search Engine Optimization
Your customers are searching for what you offer. We'll make sure they find you, and not your competitors.
Advertisement Icon
Paid Advertising
We'll work within your budget to optimize your ads on Google and Facebook for maximum ROI.
Speech Bubble Icon
Reputation Management
We'll help you build and protect your most important online asset – your reputation.
Colour Palette Icon
Website Design
We build websites that are fast, responsive, and most importantly: convert site visitors into paying customers.
Dollar Sign Chat Bubble Icon
Lead Generation
We will multiply your new leads by increasing you website traffic and conversion rate.
Tooth Icon
Dental Patient Marketing
We are experienced dental marketers and web developers. We can help you get more new patients every month.
House Icon
Real Estate Website Design
All of our REALTOR® websites come with the customized CREA DDF feeds. Your prospects can browse real estate right on your website.
Pie Chart Icon
Competitive Analysis
Every business wants to know what their competition is doing. A competitive analysis helps your business stay in the game with your competitors and remain competitive within your industry.
---
Giving Back
---
Our most popular services.
Websites That Work are usually live in 4-6 weeks. We build and manage WTW sites for a small monthly retainer. This guarantees good performance.
Simply put, our lead generation services get you more traffic, leads and sales. Search Engine Optimization brings new visitors to your website. By ranking on page one in Google for keywords that matter to you, you get more traffic.
Content is king. You know it's true. The content on your site tells your visitors who you are. It encourages them to dig into your site. It is the strength of this content that will be largely responsible for helping to attract visitors to your site.
Pull up a chair. Learn a little bit about us.
Internet marketing that works.
Our internet marketing programs have one goal. We want to impact our clients where it matters most. Usually, that's the bottom line.
We change our clients' lives by delivering clear results.
Our work looks great and performs well. You will see an increase in website traffic, better engagement, and most importantly – more quality leads for your business!
get online
get control of your website
get in front of more prospects
get more phone calls
get more email inquiries
Skeptical? We have the metrics to prove it.
We use a lot of strategies to accomplish your goals. Our monthly digital marketing programs can increase traffic, leads and sales. We do this through search engine optimization, content creation, blogging, website design, graphic design, and social media. All of our services come with reporting. We'll prove that what we're doing is making an impact for you.
What is an Internet Marketing Company?
An Internet Marketing Company is an organization that supports your business' goals related to traffic, lead generation, and sales. Also called an online marketing company or digital marketing agency, we employ a series of well-defined, results-oriented strategies to reliably reach your target customers where they now spend a significant portion of their time–online.
We ensure that you're reaching your most ideal customers–those who need, want and will appreciate what you offer. As an Internet marketing company, we recognize that traditional advertising with its focus on interruption, excessive repetition, and broad targeting is no longer an effective way to reach your customers. They tune it out, block it, and expect better from companies with whom they do business. Instead, we tailor the message to connect with these prospects where they are in the Buyer's Journey to efficiently guide them toward the buying decision.
To accomplish this, we focus on adding value to your customer's life through content that resonates with your target audience on social media, in search, and in other locations they spend time online. We magnetize your brand so that customers want to:
Connect
Engage
Share
Experience your brand online and in real life
Buy what you're offering
We're committed to delivering an excellent return on investment, being attentive to our clients' goals, focusing on increasing top-line sales performance, and becoming a seamless extension of your business.
Why should I consider working with your Internet Marketing Company?
We've found that many of our clients are frustrated by their current marketing activities. They aren't generating the sales leads and growth they promise. Many are uncertain about what to invest in to improve this situation. And it's stressful because some of our clients are trying to run a business and market at the same time. It's just not working.
We offer you a different marketing experience with proven processes. While each business is unique, specific processes work. Others don't. We've demonstrated through consistent, measurable, proven results that our methods work for real-world businesses like yours, not just on paper. Through our digital marketing services:
Guelph Village Dental saw a 240% increase in new patients and a 10122% MROI (Marketing ROI).
Structural Panels Inc. saw a 422% increase in website traffic and a 248% increase in sales revenue.
Real Programming 4 Kids saw a 401% conversion rate increase with 10X the website leads.
These are just a few of the companies, large and small, through which we've proven our methods work. We deliver clear results–more traffic, better engagement, and quality leads that create higher revenues. These successes have contributed to the stellar reputation of Canopy Media as an Internet Marketing Company. You can ask our clients. And if we don't think something will work for a client, we'll say "no" because we're committed to only working toward our strengths.
What Is Marketing ROI, And Why Should I Care?
Marketing ROI, or MROI, is sales growth attributed to marketing – the cost of that marketing / the cost of that marketing. What you get is a percentage that demonstrates how well your marketing is performing. If that percentage is low, say 120%, you're likely not breaking even as a business because there's no room for the cost of goods sold, overhead, payroll, etc., in the 20% above the marketing costs. But when the MROI is 300%, 500%, 1000%, the marketing is paying for itself as well as business expenses and profits. 500% would be the equivalent to making $5 for every $1 you spend on marketing.
An increase in revenues can be misleading if you're spending too much to increase those revenues. But when you can demonstrate clear MROI, you know that you're getting your money's worth. You can make more informed decisions about where to invest your money in the people, technologies, and strategies that make marketing and those increased sales possible.